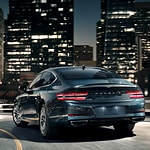 Polished, iconic design inside and outside is just the beginning of the Genesis Electrified G80's charm. The full size luxury Genesis G80 is an EV you can't miss. At the curb and on the road, its styling is impeccable, thoughtful and memorable. Our team at Genesis Santa Monica shines a spotlight on some of the 2023 Genesis Electrified G80's many notable exterior features.
Sophisticated and Sustainable
The 2023 Genesis Electrified G80 consists of exclusive eco-friendly materials, adding a sustainable twist to its story. Sloping pillars give its silhouette a wind-smoothed look and aerodynamic advantages. Up front, Genesis' unique hood emblem floats above a G-Matrix patterned crest grille, the grille elegantly concealing a hidden front charging door. When you close the door, it integrates into the grille, creating a seamless façade.
A Brand New Color
A brand new color sets the 2023 Genesis Electrified G80 apart from others in its class. Called Matira Blue, its namesake is Matira Beach in the South Pacific Ocean. Matira Blue entails a special pigment that varies between iridescent greenish-blue depending on the angle.