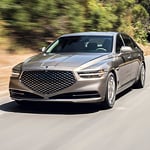 The 2023 GENESIS G90 is engineered to provide you with the best performance and style. It is powered by a 3.5-liter twin-turbocharged V6 engine that makes 375 horsepower and 391 pound-feet of torque which can accelerate the vehicle to miles per hour in about six seconds. The hybrid version of the standard engine makes 409 horsepower and 405 pound-feet of torque. It has a fuel economy of 17 mpg in the city and 24 mpg on the highway.
The 2023 G90 has a standard all-wheel-drive that is ideal for exploring the off-road terrain in Santa Monica. The power distribution is split equally between the front and rear wheels, which adds more stability and control. The vehicle also comes with an eight-speed automatic transmission that ensures a smooth ride.
The 2023 G90 has an innovative smart mode that uses a range of algorithms to sense the condition of the road beneath it. This highly advanced system then automatically adapts its engine, transmission, suspension, steering, and braking systems for optimal performance while providing feedback in real-time so users can make adjustments as needed.