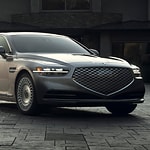 The luxurious 2023 GENESIS G90 offers both driver and passengers many wonderful benefits. No matter where you need to go, you will arrive in comfort and style.
Seats Built for Long Trips
No matter how much you love traveling by car, it's easy to get a bit stiff over time. The 2023 GENESIS G90 takes care of this by providing luxurious massage options as well as the option to recline. The smooth Napa leather seats are both comfortable to easy to care for.
Terrific Technology
Your new 2023 GENESIS G90 also offers technology